Last week I made a post about my General Veers/AT-AT commander build that has taken me over a year to get finished (I've been hella lazy). That costume is just one of the child-like wish fulfillment projects I will be partaking in the best costume party of the year; San Diego Comic Con.
As per tradition, my friend (who will be hence forth referred to as Duchess) and I are about to embark on our, traditional, We-Should've-Started-This-A-Couple-Months-Ago last minute SDCC costumes. It used to be Steampunk (hence why I call her Duchess) which was simpler because we created our own characters.
Last year we stress put together a Boba Fette costume that we worked on until Saturday (the last) night of the Con. We however didn't get it finished in time. So should we just finish that costume and be done with it? NO. LAST MINUTE COSTUME IS TRADITION.
This time we are going for a theme. I wanted to go back to creating our own characters, our own thing, that would still be recognizable as part of a fandom we love (it's Star Wars, go figure). The project is something I've wanted to pay homage too for a long time, but I could never find a way to represent it from existing sources.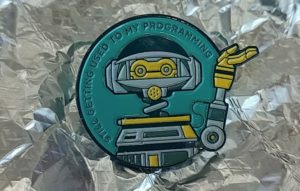 I could just make another X-wing Pilot jumpsuit with some of the colors changed and some zippers added. I could base it on ride Cast Member uniforms , but that seemed more like I would be cosplaying a Disney employee, and that's dumb. I was stumped until I found these items at a local Thrift Store: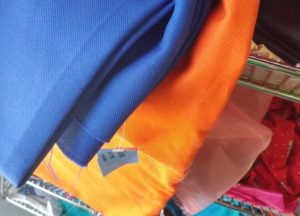 Orange and Blue fabric. What's so special about it? The fabric style, Gaberdine. The same fabric suggested for use when making and Imperial Officer costume. Which was ironic (probably using that word wrong), because I had to decided to make a Star Tours Officer based on an action figure sold in the Launch Bay at Disney Parks. But with this fabric, why don't I just make an Imp Officer uniform in Star Tours colors? Slap on a Star Tours Name Badge and maybe a couple shoulder patches. Who says Starspeeders are only piloted by droids (RIP RX-24…You were still getting used to your programing)?
The below images are my 'prototypes' I made up in Photoshop. The Officer costume is based on a McCall's Men's Civil War Ffficer sewing pattern. This is the pattern I used when making my co-host's uniform with some modifications (*side note; I used this pattern to make a Steampunk Military dress uniform. When I was done, I realized I had just made a Confederate Uniform….oops.) The Flight Attendant is based on Simplicity 8461 pattern.
Next week, I will post my progress. I already need more orange fabric and none of the stores I've gone to in San Diego have the Orange Gaberdine that I need. I do have the sleeves done at least. So, you know, little victories I guess.
I still need to figure out a hat. I'm thinking of merging a Pilots hat with a Rebel Hoth trooper hat or with the soft parts of an Endor trooper helmet's soft parts.
Next Thursday will be the continuation of the Veers Build and Friday will be the next step in The Star Tours Flight crew team.
-Jon, In the...Launch Bay…?
---